Rotary die-cutter for corrugated board

The new high board line rotary die-cutter CorruCUT - Experience transferred into state-of-the-art technology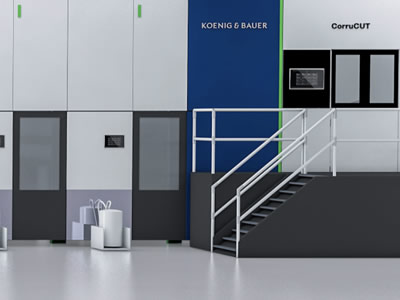 The CorruCUT reflects the very positive experiences of users of the predecessor series, which was introduced ten years ago under the name Corrugraph. At the same time, it incorporates a host of modern technologies and functions representing the latest state of the art, many of them features unique to products from Koenig & Bauer.
The CorruCUT has been designed for the high-performance rotary production of die-cut corrugated products in ultimate flexo post-printing quality.
The CorruCUT handles corrugated sheets with a width of up to 2,800 mm (110.24 in) and a thickness of 9 mm (0.354 in), running at speeds up to 12,000 sheets per hour.
Set up while production is running
DriveTronic shaftless drives
Fast job change, low-maintenance
Press control via a flexible Profibus system and touchscreen
Integrated error diagnostics and online remote maintenance